Paranormal NA suspense/romance:
OPHELIA ADRIFT:
"This book was amazing. I devoured it up in two sittings." KittyKat, Goodreads
Ophelia's first love might be her last. In her wildest dreams, Ophelia Montague never imagined she would leave the city, her friends, her school and move to a seaside village.
But when her parents die in an accident, that's just where she finds herself – ensconced in a rambling house on the beach, with her uncle, Sebastian, his boarder—19-year-old Adam Ferrier, and two Great Dane dogs named after shipwrecks. By the ocean's edge she meets Jack Denham who seems to command the sea and the moon—and if he has his way—Ophelia, too. Available now as a paperback and ebook from Amazon.
THE CLAIRVOYANT'S GLASSES: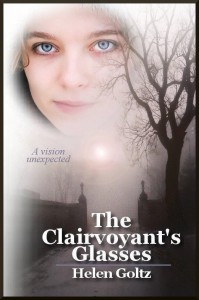 "I loved this book! A very serious story with a very quirky twist made for very entertaining reading." Jools, Amazon
When Sophie Carell was eight-years-old, her eccentric, clairvoyant great aunt, Daphne, predicted Sophie would be one of the greatest clairvoyants of her time. Sophie wanted to be a movie star. Her mother said not to worry about it—Aunt Daphne was daffy. When Sophie is called to the reading of Daphne's Will, she is given a pair of glasses that will change her life. But that's not all she acquires. Along with the glasses, Sophie 'inherits' a protector—the handsome and powerful Lukas Lens; plus brooding Detective Murdoch Ashcroft who is keen for Sophie to fill her aunt's shoes and put her talents to work for him. Sophie has to decide if she will focus on her acting career or explore her new-found clairvoyant skills. But danger lurks around the corner… Available from Amazon.
Romance-crime/suspense:
DEATH BY SUGAR:
If you are a fan of Kathryn Ledson or Janet Evanovich, you will love unravelling the mysteries in the Jesse Clarke series. Carol,  Reading, Writing and Riesling
Private investigator, Jesse Clarke is new at the P.I. game and her boyfriend,  personal trainer Dominic, is doing his best to talk her into staying with her publicity business. Jesse scores two new clients with sweet tooths—traces of sugar were found in a bomb that blew up her client's Mercedes, and it appears sugar might have duped the immune system of her other client's mother, resulting in death. Jesse finds herself talking to the living and the dead to get results, and trying to prove to Dominic she doesn't need a bodyguard! Available from Clan Destine Press and Amazon.
DEATH BY DISGUISE: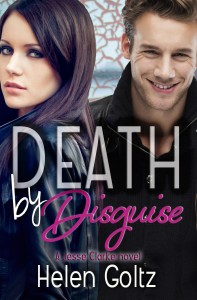 "Many laugh out loud moments along the way … some wonderful twists." Brenda Telford, Aussie Readers
Sassy P.I. Jesse Clarke knew it wasn't going to be a normal week when two dead people are spotted alive but their death certificates say otherwise and Spiderman steals a collection of costumes made for the next Comic Con.
Supported by her own man of steel—the tall, dark and handsome Dominic; business partner Ed; police contact Officer Jason who has more than a professional interest in Jesse; and, best friend Melanie, Jesse finds herself talking to witches, superheroes and morticians for answers! Available from Amazon.
Romance / historical fiction:
AUTUMN MANOR:
"If you've ever been truly in love, you'll identify with Lexie and James." Judy Alter, Story Circle Book Reviews.
A man hanged himself in the front room of the now abandoned old mansion; Rachael Price, along with everyone in the village, knew the story. But that was a long time ago and the tale had become nothing more than an urban myth by the time Rachael was born. Eighty-nine-year-old Carrie Howell, dressed in her Sunday-best, asks her grand-daughter, Rachael, to stop a while in front of the rambling old mansion-Autumn Manor. Who were these people her grandmother is remembering and what is her connection to the 'haunted house' that Rachael avoided as a child? Why is the house abandoned? Who owns Autumn Manor now? Available from Atlas Productions and Amazon.
Crime thrillers:
MASTERMIND:
"Leaves the reader breathless and exhausted." Sylvia Loader, Sisters in Crime
You are playing a game online; masterminding the perfect crime. Or at least you think it's a game. A seemingly normal web site inviting game players to mastermind the perfect crime is the façade for a real-life game of Mastermind—an invitation-only competition for a select few to see who can perform the perfect heist and win an enormous bounty. Special Agent Mitchell Parker and his team learn the magnitude of the international crime ring just in time. Washington, London, Paris … the clock is on. If you love it when a plan comes together, hold on tight, because nothing is about to go right! Start the Mitchell Parker series with a complimentary ebook copy of Mastermind. Click here to claim your copy. Ebook and Paperback available from Amazon.
GRAVEYARD OF THE ATLANTIC – Mitchell Parker is back!
"This book makes for compelling reading." Michael Swensson, Aussie Readers, Goodreads
Below the surface of the ocean, off the shores of Cape Hatteras, lie the bodies of many ships that never made it to shore and something more … silent and sinister.
Two sets of fresh fingerprints on a pair of binoculars left on the beach are cause for concern for FBI Special Agent Mitchell Parker and his team, Nick Everett, Ellen Beetson and Samantha Moore. The prints belong to a criminal  that is currently not listed as in the country and a foreign diplomat who disappeared a year ago. It's a rough and violent ride for Mitchell Parker and his team against the ocean and the clock. Available from Amazon.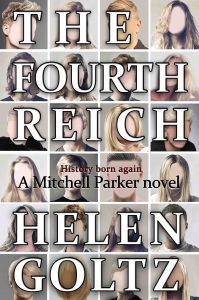 "Starts out at breakneck pace, and that doesn't give up at any point." Karen,  AustCrimeFiction
The stilted footage of Holocaust survivors marching through the gates of Auschwitz projects behind Benjamin Hoefer at the book launch of his father, Eli's biography. As it comes to the end and closes in on Eli Hoefer's gaunt face, four red words are scratched across the last frame— Nazi, Jew hater, fake! FBI Special Agent Mitchell Parker is frustrated to be called in on what he believes is a police matter, but digging soon reveals a threat that has far-reaching implications. Parker and his team find themselves in the middle of a Neo-Nazi plot that spans two continents and threatens to bring one of the worst atrocities of history back to life.  Mitchell Parker is back! Available from Amazon.
Crime / women's literature:
THREE PARTS TRUTH:
"A great, dark little tale of passion and brooding," Christine Reichs.
"Last night you were in my dreams. I hate that. I woke up exhausted, as though I had lived through it all again -the police, the press and the vilification." Catherine Jameson—thirty, a widow in hiding—doesn't know what happened that night. Two bodies found: her husband and his ex-lover. Was it a murder-suicide or an accidental death and suicide? Or, as some believe, did Catherine have a hand in it? Living a new life with a cottage to renovate and her dog, Buddy, for company, Catherine picks through the ruins of her old life to find answers. Available from Amazon.